I find it always a nice discussion where and how to put 'Classification' ( a Private or Public document ) on a document and what this exactly means for the document and/or the user. It can involve permissions, but sometimes it's no more than a metadata field, like Last Modified or Name, or a combination of both.
Metadata itself doesn't imply anything in relation to permissions. It's the location that's in charge of the permissions (to prevent item level permissions) e.g. a folder or a library. That's where the confusion starts…
Take a look at the pictures below.
A map 'Confidential' exists with other permissions than the root folder. One document is stored in this folder. A metadata field Classification exists and is randomly 🙂 set to Private and Public to documents in the root folder and the Confidential folder. The field seems to be redundant, because it only confuses users about the classification and what this means for a particular document. This is strengthened when a document is moved from the root folder to the Confidential folder. Can a user be trusted to switch the metadata field to Private? Remember: people are lazy by nature… 🙂
Metadata is quite handy for example when using refiners in the search center. But when permissions are used, are these refiners still handy or necessary? The search center shows only documents which are accessible to you…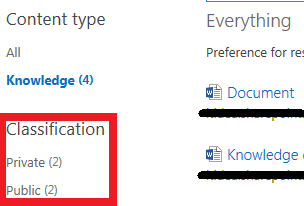 Search center with Classification refiner
When the user needs to know if a document is Private or Public and enforced with permissions one can do something with icons to show the classification instead of using confusing metadata. Icons can be used in a document library using JSLink and/or in the search center formatting the search results by the display template used.

Icon used in library to show classification (no icon means Public, lock icon means Private)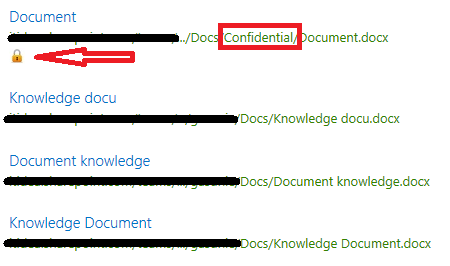 Icon used in search center to show classification (no icon means Public, lock icon means Private)
Summary
This post showed one of the examples to implement document classification. I'm sure you had a similar discussion about this or another field at your customer.
How did you solve it and why?